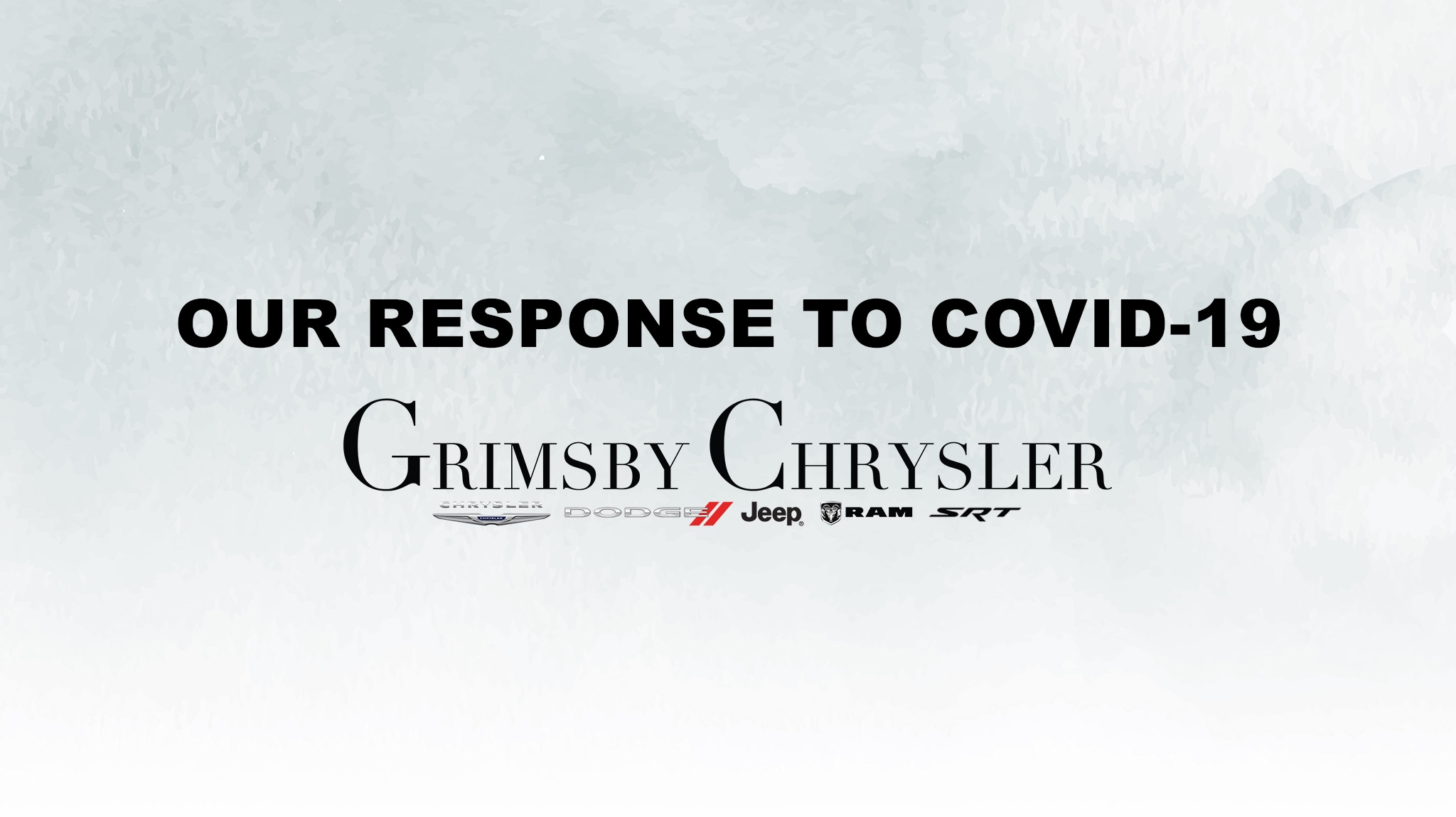 May 26th, 2020
While we are more than happy to deliver vehicles to your home during this time, we do have restrictions on how far we can go! Please ask your Sales rep for more information.
Check out the video below to find see how our Service Department is taking precautions to keep our customers and staff safe during the ongoing COVID-19 situation:
May 19th, 2020
Our Sales Department is now open online and in-store by appointment only Monday-Saturday 9AM-4PM! Our Service Department continues to operate Monday-Friday 8AM-4PM.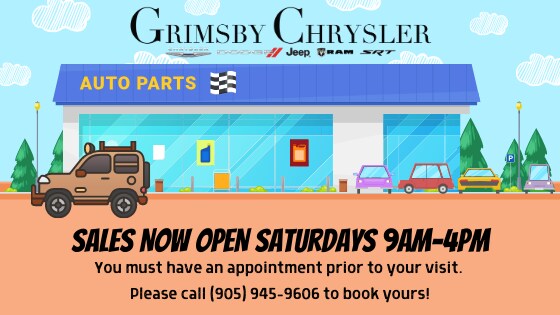 May 11th, 2020
Our Sales Department is now open online and in-store by appointment only, in order to keep our employees and customers safe. Please don't hesitate to contact us at 888-450-5924 to schedule an appointment with one of our wonderful sales specialists. We can also be reached by instant messaging us on our website, or messaging us on our social media channels. We are excited to assist with your online or in-store vehicle purchase!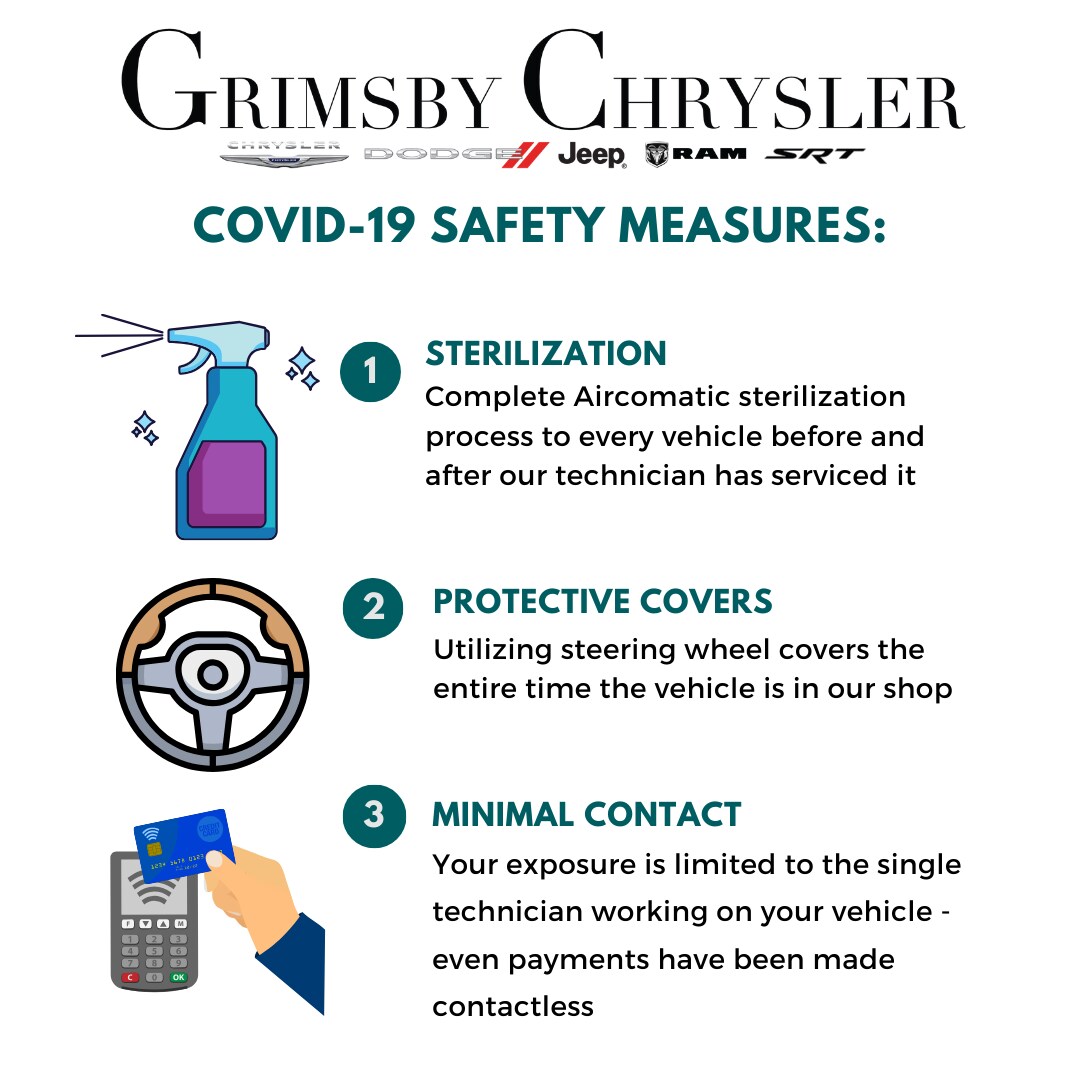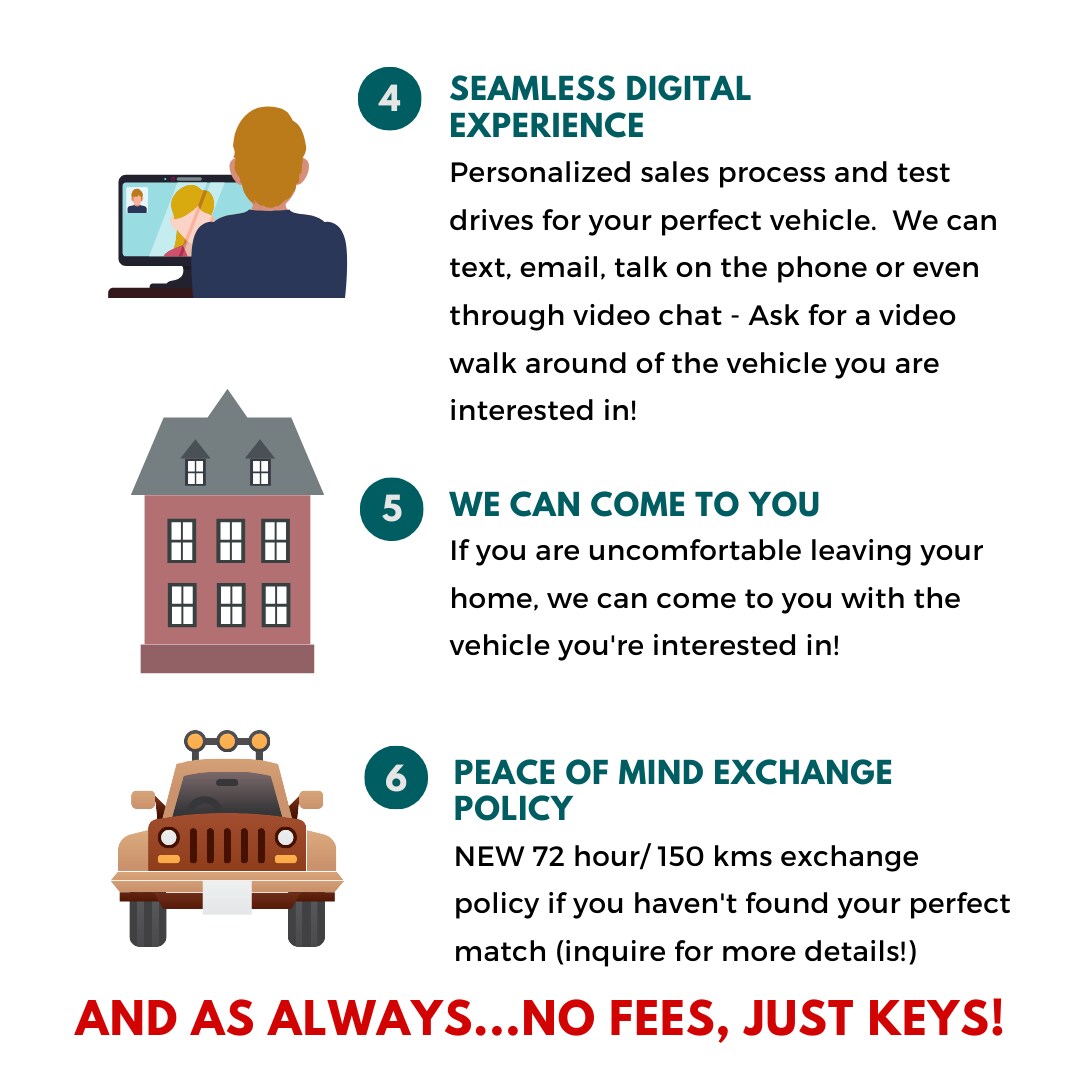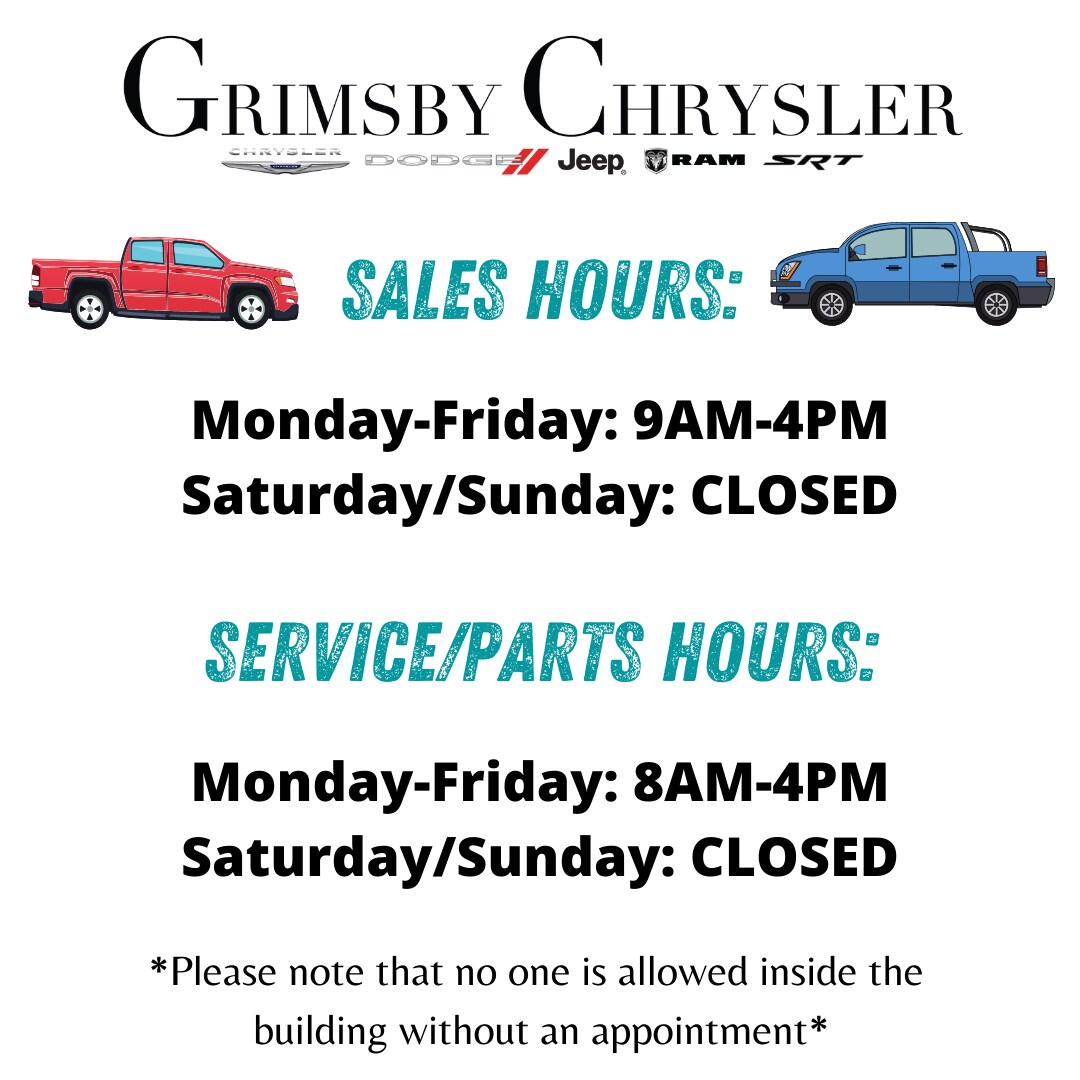 **Please be aware that there is no shuttle service operating at this time, and our customer lounge is closed for the health and well-being of everyone**
Grimsby Chrysler is here for all of your vehicle needs! Safety is our number one concern- here's what we're doing:
Complete Aircomatic sterilization process on every vehicle before and after our technician has performed any service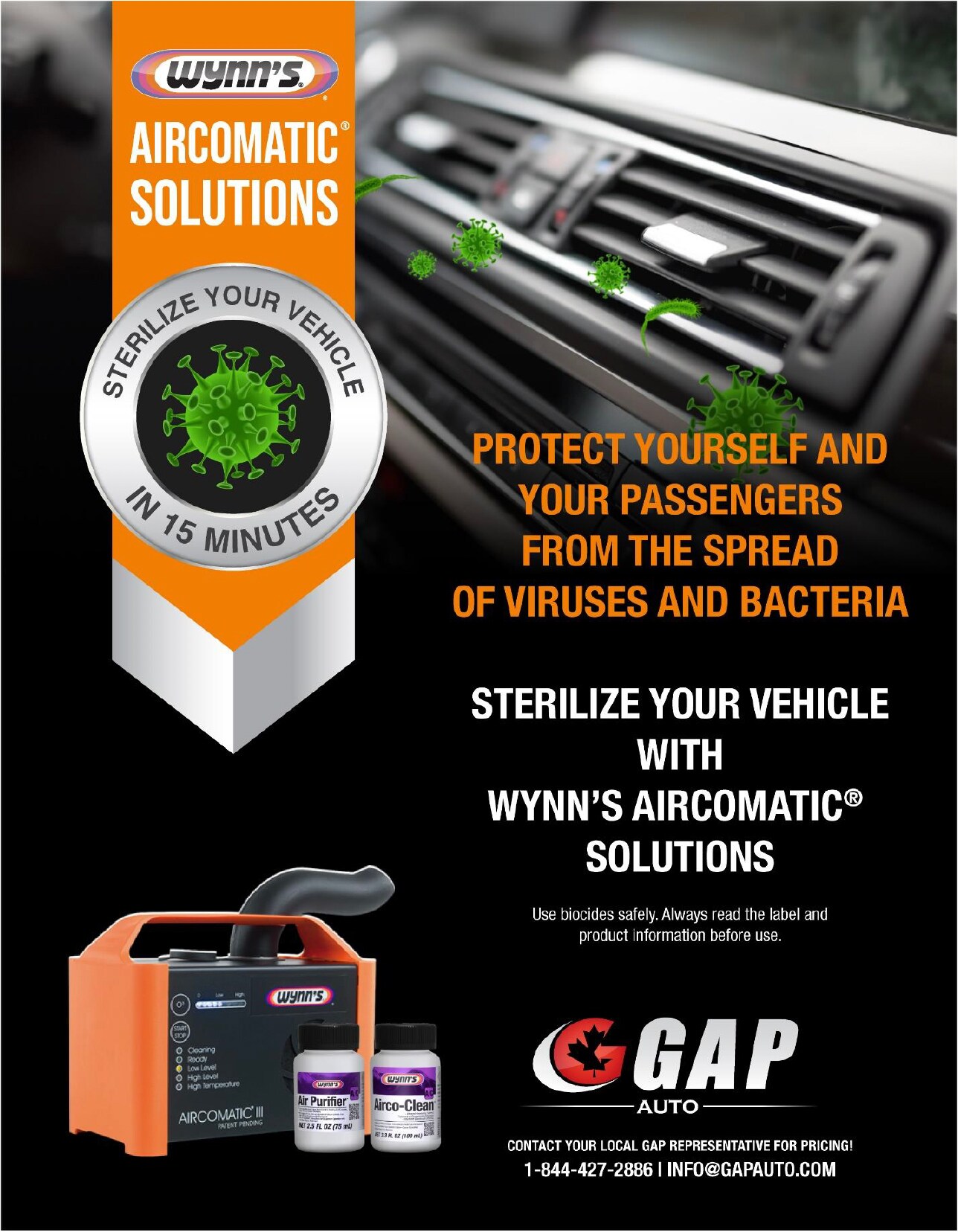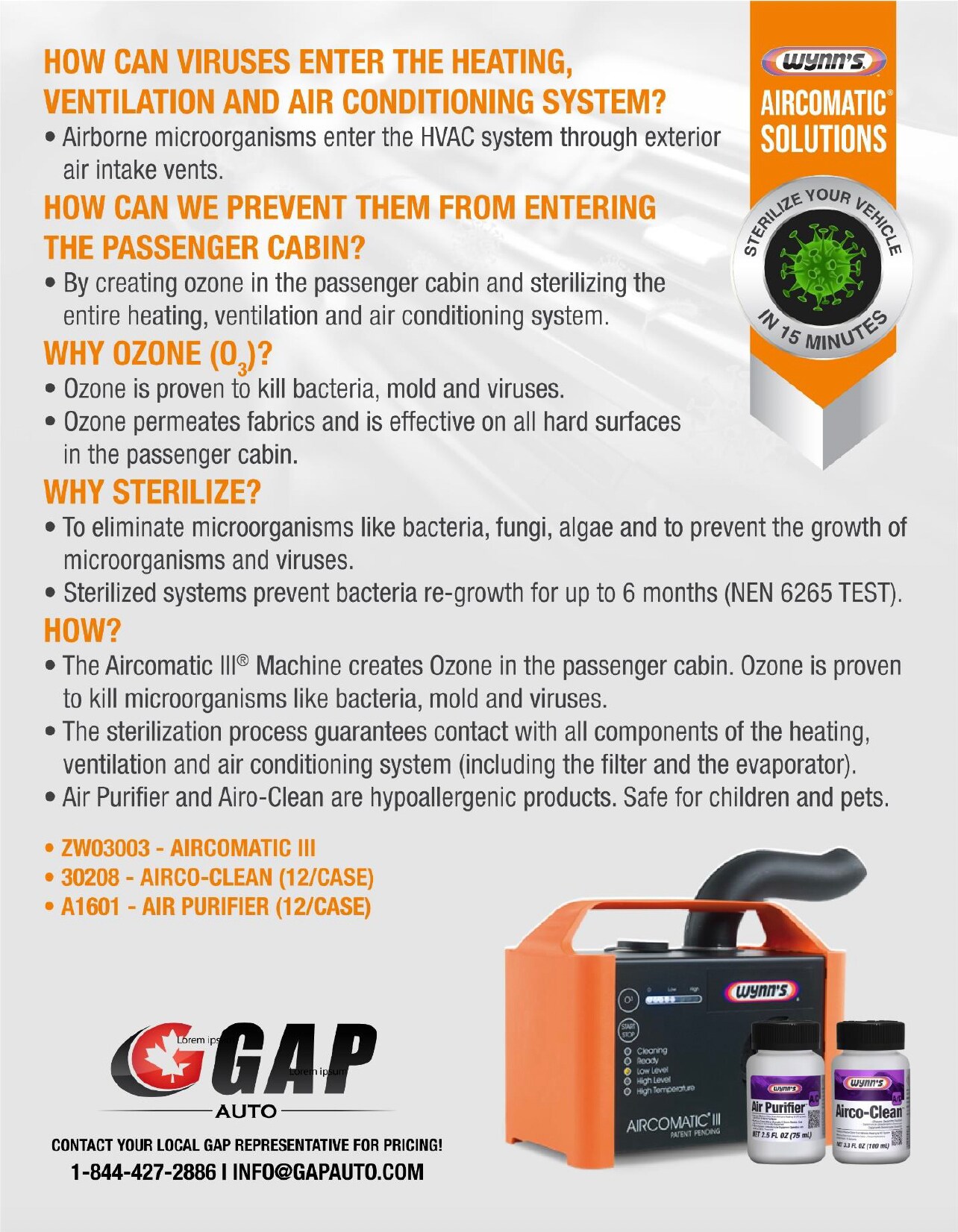 Steering wheel covers are used the entire time any vehicle is in our shop
Vehicle is worked on in a facility that is completely closed to the public so your exposure is low risk
Contactless payment and a complete key disinfectant wipe down before being returned
Separate sales entrance and designated sales office - completely disinfected in between each customer appointment
Personalized sales process and vehicle test drives for the perfect vehicle. We can text, email, speak by phone or video chat
All vehicles are thoroughly disinfected before and after every test drive - vehicle will be here and ready for you to try!!!
Still a professional experience and as always- No Hidden Fees, Just Keys!!!!
All vehicles are available to be viewed online - ask us for a video walk around of the vehicle you're interested in!
72 hour/ 150 kms return policy* Ask us for more details
$250 Gas Card for all frontline workers with every new/preowned vehicle purchase* Restrictions apply, proof of employment required
Free Oil Change for all frontline workers* Restrictions apply, proof of employment required
If you're uncomfortable leaving your home, we can come to you with the vehicle you are interested in!* Ask for details
We wish good health and safety to everyone's families! We look forward to seeing you soon here at Grimsby Chrysler.
---

---

Our Sales Department is operating completely online in order to keep our employees and customers safe. Please don't hesitate to contact us at (877)-881-4189, or by emailing our Sales Manager Mike Beaudoin at mike@grimsbychrysler.com. Once again, we are more than happy to assist you with your online car purchasing experience or any other inquiries you may have!
Our
Service & Parts Departments are open
 with reduced hours, Monday-Friday 8am-2pm. They can be reached at 
(888)-450-5924
, or you can contact our Service Manager Mike Fox at mikef@grimsbychrysler.com to schedule an appointment.  
---
We hope to see you again soon. Stay safe and healthy everyone.

---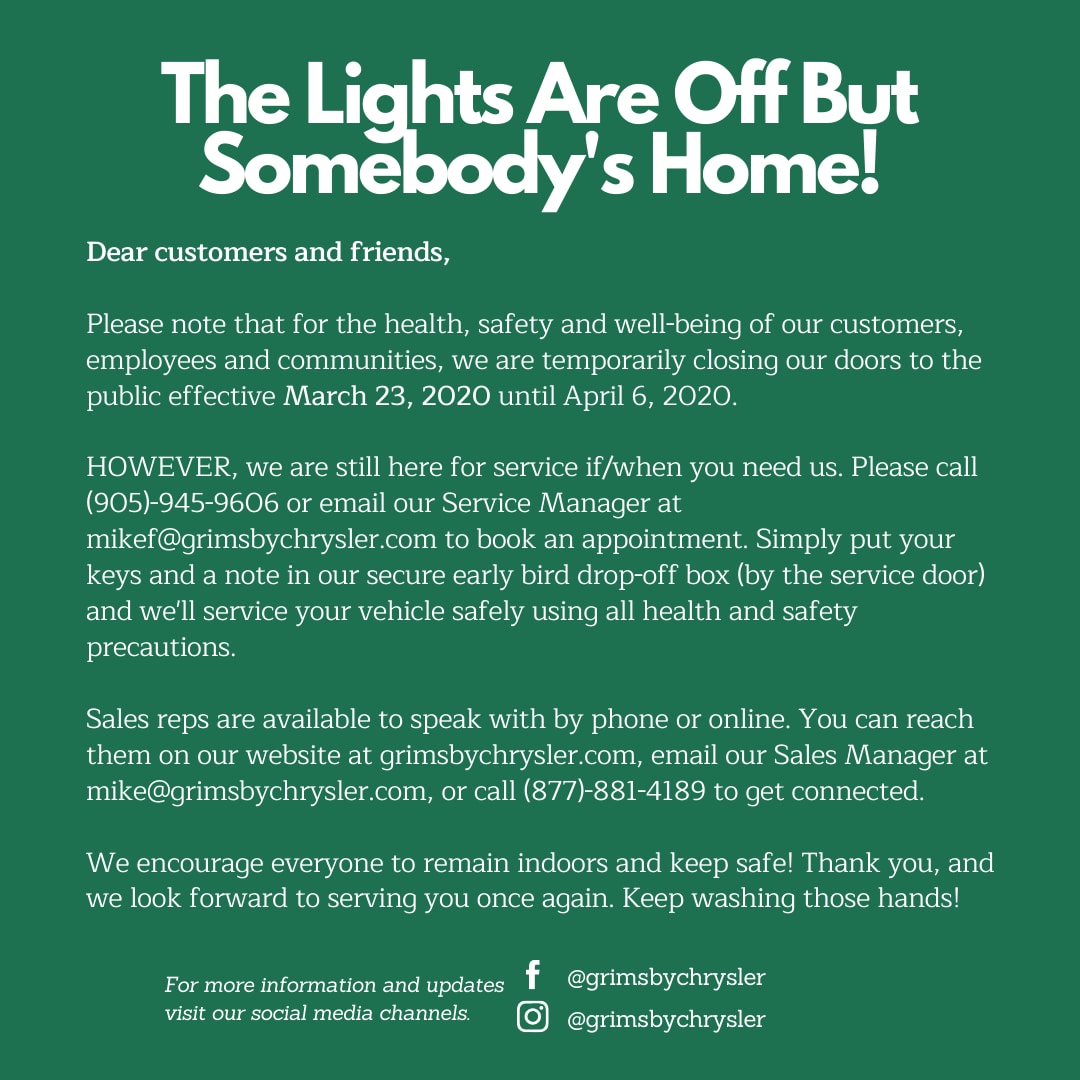 ---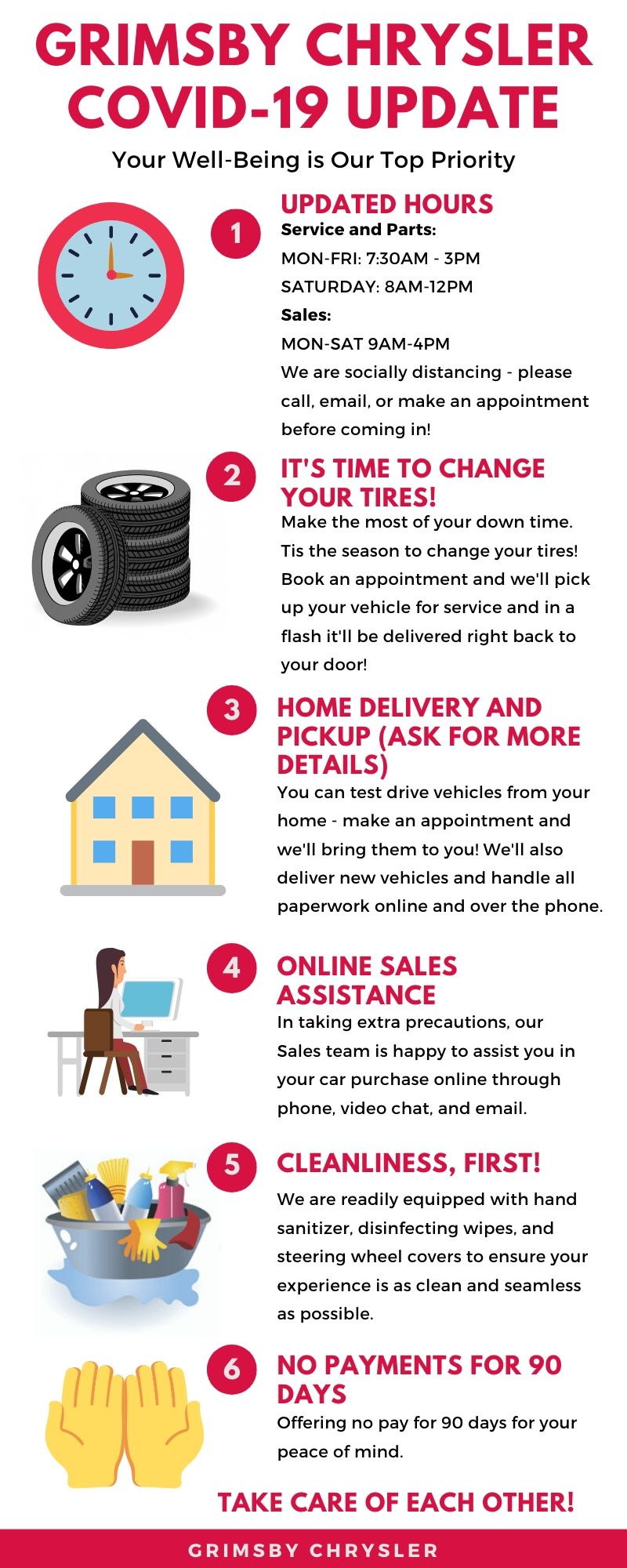 To Our Valued Clients and Community,
Today, we once again address the ever changing COVID-19 situation. In such rapidly changing circumstances, we at Grimsby Chrysler are monitoring the situation closely while taking every precaution necessary to keep those around us safe.
As such, we are proud to offer home pickup and delivery for all your service and sales needs! In order to limit the amount of people in the building at a time, our Sales team is happy to assist in your experience online, through video chat, email, call, and text. We are even readily available to bring test drives right to your door! Payments can be made over the phone and all paperwork can be delivered to your home or over email.
Make the most of this downtime - it's tire changing season! Book an appointment with our Service team and we'll drive to your home to pick up your vehicle, take it into our shop for service, and in a flash it'll be delivered right back to your door. No need to leave the house!
All teams are readily equipped with hand sanitizer, disinfecting wipes, and steering wheel covers to ensure that your experience is as clean and seamless as possible.
For the time being, our Parts and Service departments will be operating Mon-Fri 7:30AM-3PM and Saturday 8AM-12PM. We will do our best to accommodate all of our customers. Unfortunately, for obvious reasons, our shuttle service has been suspended until further notice. Our waiting room will also remain closed.
We understand that this is a new way of doing business and we appreciate your patience as we work out the kinks in order to offer our community the best and safest experience possible.
These times are scary, but taking care of your vehicle needs doesn't have to be.
We wish our clients, staff, and community all the best throughout this situation. We will continue to serve you, now and once this all has passed. Remember, this WILL pass.
Stay safe and look out for one another.
The Grimsby Chrysler Team
---
March 17, 2020
To Our Valued Customers,
At Grimsby Chrysler, we have always made a strong commitment to providing our clients with the best service and experience possible. In light of the current COVID-19 (Coronavirus) pandemic, we have implemented new practices to ensure the safety of our guests and employees. Our doors will remain open using all precaution until further direction is given. For the mean time:
Reduced Hours:
While our Service department will remain open from 7:30AM-5PM, Sales hours have been limited to 9AM-6PM without an appointment.
Service Changes:
While we are more than happy to continue servicing your vehicle, we ask that you please drop it off while we work on it. In order to implement social distancing, we will be closing off our waiting room until further notice.
Shuttles will continue to run but will do so one customer at a time.
Our techs are taking all health and safety precautions: wearing latex gloves, utilizing steering wheel covers, and disinfecting upon service completion.
Customers are still able to test drive vehicles at this time, but they will do so without a Sales representative present.
If you require parts, we can deliver them to your door if preferred. Vehicles can also be shown at your place of residence upon request. Please let us know what we can do to further assist you at home.
Digital Communication:
We will continue to help you to the best of our abilities during this period of uncertainty. In order to limit the number of people inside the building at a time, our Sales team is ready and excited to offer as much of the vehicle purchasing process online as much as possible. This includes video communication, text, and email.
If you do decide to visit our store, rest assured we are taking all necessary steps to keep our guests and staff safe and will continue to provide updates when necessary.
Thank you so much for your continued business and understanding. We are all in this together.
Sincerely,
Grimsby Chrysler